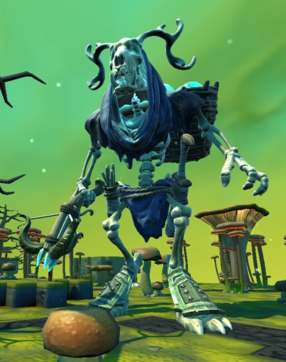 The Knight Hunter is the second mini boss the player will encounter. It can be found on the level 17 island of Witchwater.
Combat and Tactics
[
]
The Knight Hunter can be found roaming the island of Witchwater and will engage the player when near. Knight Hunter has four different attacks. The first and second attack has the Knight Hunter either shooting magical arrows at you with its crossbow or slashing at you with his sword. The Knight Hunter will occasionally drop a magical bomb at the players feet this will damage the player if hit. Lastly the Knight Hunter will summon creatures known as Snapper occasionally to attack the player.
Drops
[
]
The level 17 Knight Hunter has different drops from the level 25 one summoned with Knight Hunter Amulet of Invocation.
-The number in the () indicates which level of Knight Hunter drop was from.